Time for another installment of Me, Myself and I questions. Let me know if you did a post this month too. I'd love to come read your answers!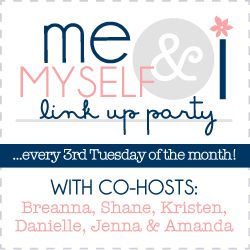 1. When you're feeling down what do you do to pick yourself up?
When I'm feeling down talking to my husband or my mum always helps me. I find talking out my feeling to be an important part of how I process things. Talking and a cup of my favorite coffee treat…that usually does the trick. Sometimes I just need to sleep too.
2. If you had to live in a different time period which would you prefer?
I think I would pick the time period when Jesus was alive on earth. It would have been amazing to meet him and learn from him and witness his miracles. I appreciate how he viewed and treated women…he told a woman first that he was the Messiah and he appeared to women after he was resurrected and had them tell the apostles. He was interested in teaching women as much as men and reflects perfectly how God feels about women too.
3. What is the most creative costume you've ever worn?
I was invited to a costume party once when I was 17 and made the coolest costume for it. It was a gypsy outfit and made a skirt with tassels and had big gold hoop earrings and a corset that I added purple and gold ribbon to. The party ended up not working out and I never wore my costume, but it was fun to make. I also loved my costume for the musical Razia's Shadow that Chris and I performed in. I used one of my bridesmaid dresses and had a couple different masks that I wore. And we had a lot of fun with hair and makeup in that play.
4. Five weird things about you we wouldn't know without being told?
1) I always tap the top of my pop cans before I open them. 2) I have a compulsion to spit from high places. 3) I would rather eat a bread basket then order dessert. 4) I love driving standard but it took me a really long time to learn how. Now both are cars are standard transmission. 5) I love to watch football, but I always end up sleeping through the 3rd quarter.
5. What would you tell your sixteen year old self?
I would tell her that she is beautiful and that there is a man out there waiting to meet her who will love her for who she is and will make her feel beautiful. I would tell her that she hold much power in being able to forgive and love. I would tell her that her dreams are valuable and to always hold on to the artist inside of her.
Now its your turn! Answer the questions in a blog post and join the link-up. I'd love to come read your answers and thoughts and learn more about you too.